Loiacono Literary Agency takes on two novels by John House—Rancor and Uncommon Bond!
Rancor – When Paul and Cindy's father is framed and murdered, and his mother commits suicide, they are separated by the courts. Paul vows to find her somehow, someway, someday…and his parent's senseless deaths must be avenged.
Amidst the turbulent late sixties backdrop of Vietnam, Paul uses his "talents" for God, country, and his rancor…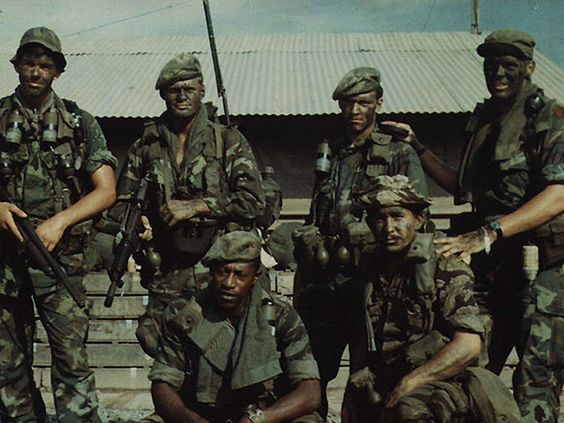 A reconnaissance team from the 1st Cavalry Division.
Uncommon Bond – Dr. David Hanson volunteers to serve his country during the Vietnam War. All is routine until the curiosity of his chopper pilot catapults them into every serviceman's nightmare, being a POW. Hanson's survival depends on an uncommon bond between himself and an NVA surgeon in the bowels of a tunnel complex.
His story is taken from actual events, making them even more heart-racing.
April 1969, Phuoc Vinh
John C. House, MD, creates his novels from his vast and varied experiences in life. He is actively involved in family medicine and previously spent time in sports, prison, and urgent care medicine. He has traveled extensively, including mission trips to Belize, and has sailed and scuba dived in the Virgin Islands, Bahamas, and Belize.
To relieve the stress of a busy medical practice, he spent weekends hiking in the Appalachian Mountains with 'Tall Guy', a companion well versed in nature.
Prior to becoming a novelist, John published poetry and he also won prizes for short fiction. His first two novels So Shall You Reap and Choices were written with locations based in Northern and Coastal Georgia. His third novel Trail of Deceit (published by Limitless Publishing) is based on his knowledge and love of nature, set on the Appalachian Trail.
A native Georgian, John received his BS from North Georgia College, his MD from the Medical College of Georgia and completed further training at Memorial Medical Center in Savannah, Georgia.
House served four years in the US Army, including a tour in Vietnam with the First Cavalry Division, which gives his novels, Rancor and Uncommon Bond, much authenticity and realism.
John and his wife, Pam, live on the Southeast Coast of Georgia. All his creative works involve the richness of the Southern culture. Represented by Loiacono Literary Agency