Trail of Deceit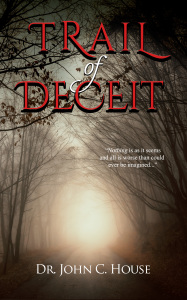 Published by Limitless Publishing www.limitlesspublishing.com
Amazon  B&N  Book World Angus & Robertson BAM  BookLaunch  Hudson Book Sellers   HPB Market Place  B&N  Copia  FishPond  Powell's Books  The Book Depository  Waterstones  GoodReads  ILoveReading  Amazon CA  Amazon AU  Amazon UK  Amazon Germany          Amazon Italy  Amazon France  Amazon Spain  Amazon Japan  IndieBound  Wheelers
Four college students set out to hike a section of the Appalachian Trail. The hike turns to terror when a stranger brutally attacks the group. Having wandered off the main AT, a simple adventure turns into a test of survival – from the elements as well as two and four-legged predators. Nothing is as it seems and all is worse than could ever be imagined.
---
Rancor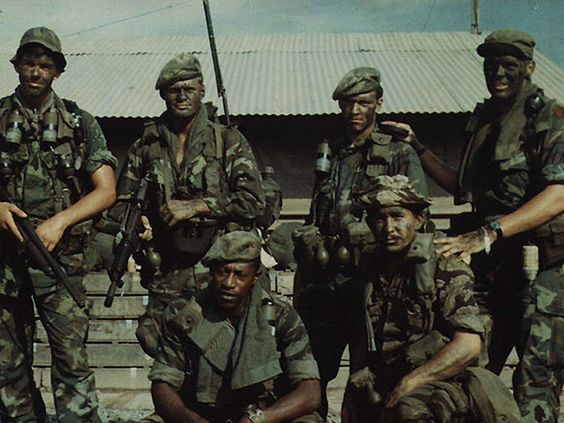 A reconnaissance team from the 1st Cavalry Division.
Published by Argus Publishing
When Paul and Cindy's father is framed and murdered, and his mother commits suicide, they are separated by the courts. Paul vows to find her somehow, someway, someday…and his parent's senseless deaths must be avenged.
Amidst the turbulent late sixties backdrop of Vietnam, Paul uses his "talents" for God, country, and his rancor…
Paul Aston enters Vietnam as a nineteen-year-old with an 11 Bravo MOS to serve as an infantryman with an additional specialty of demolitions. His selection of demolitions as his secondary MOS is not by accident. Traumatic happenings to him and his family set his course in life from his pre-teen years on. Buried in his psyche simmers the desire to someday return to the town that literally destroyed his family…to seek revenge.
The path takes him through multiple foster homes, a juvenile detention center where he experiences physical, sexual, and emotional abuse, and finally to the US Army which provides the first stability since the loss of his family. In addition, it offers valuable instructions in skills he needs.
Gaining friends, only to lose them in battle, heightens his obsession, and after leaving the army, he is ready to carry out his plans. Only one thing stands between him and the fulfillment of his lifelong dream; the unexpected love of a woman.
---
Uncommon Bond (2017)
April 1969, Phuoc Vinh
Published by Argus Publishing
Uncommon Bond – Dr. David Hanson volunteers to serve his country during the Vietnam War. All is routine until the curiosity of his chopper pilot catapults them into every serviceman's nightmare, being a POW. Hanson's survival depends on an uncommon bond between himself and an NVA surgeon in the bowels of a tunnel complex.
His story is taken from actual events, making them even more heart-racing.
---
Choices
Published by ThomasMax Publishing
After working a twelve-hour emergency room shift, Doctor Edward Majorski stops at a convenience store on Christmas morning. He looks forward to Corn Pops and milk, and ten hours of much-needed sleep. He got neither.
Caught in a botched robbery-turned-hostage situation, he is thrust into a crisis requiring a quick mind and surgical skills in rudimentary conditions. Despite his reluctance, he is forced to make choices that will determine life or death—including his own.
From the Georgia coast to the depths of the Okefenokee Swamp, he battles a psychopath who is intent on surviving at all cost.
---
And So Shall You Reap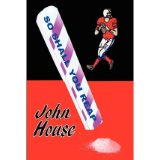 Published by ThomasMax Publishing
Joshua Smith enjoys the world of hero worship as quarterback of a championship football team at a major university. He is intelligent enough to understand the hazards of the drug underworld, especially the street drug dealer. But he couldn't imagine the hell that ensued when he combined the two worlds. In danger of losing his professional and personal careers as well as his life and the love of the woman he cherished, he receives help from the most unlikely source leading to a discovery more painful than the other potential losses.
Reviews
Emily Carmain
Independent Publishing Professional
I have been fortunate to work with John on three of his novels so far — So Shall You Reap and Choices — which are now published and in print. I also enjoyed editing his latest manuscript, Trail of Deceit, which I hope will be out before long. John has an exceptional ability to develop suspenseful plots and a strong sense of place in his novels. It has been a pleasure to work with him as he has proceeded from story to story, each time bringing new elements of creativity and style to his words. I recommend anyone who likes novels, especially suspense, to take a look at his books on Amazon. I must admit that Choices is my personal favorite so far!
 You may contact the author directly to check availability for conferences and speaking engagements@ drjchouse@bellsouth.net .